Results At A Glance:
Our Proven Process identified top .3% of candidates
An extensive network resulted in 89% reduction in time-to-fill
Technology leveraged saved the client 37 hours of recruiting efforts
Summary:
A medium-sized business required a recruiting solution to quickly expand their overworked Human Resources team. They were looking to add an HR Specialist to help keep up with day-to-day responsibilities.
The Problem:
Already stretched thin, the team had to dedicate additional time on top of their extensive workloads to recruit a new HR team member. By the time the company turned to Stivers for help they had already:
Devoted 3 months to sourcing, screening and interviewing potential candidates
Invested ~$1,500 advertising the job on external sites
Spent hours trying to source quality candidates, either missing on experience or cultural fit
Made 2 unaccepted offers
The Solutions:
Stivers took ownership of the entire recruitment process, quickly sourcing, screening applicants, conducting initial interviews, and completing reference checks. Stivers took over the burden of time-consuming recruiting activities and quickly identified qualified talent by leveraging their database and engaging with their network of HR professionals.
The Results:
Stivers was able to quickly assess the client's needs and identified the right hire within 10 days, ultimately saving them 37 hours of work. The company chose Stivers as its partner because we provided:
A network of established HR professionals
Experience identifying the right cultural fit
Access to recruiting technolog
The partnership with Stivers made a direct impact on the client through:
Improved time-to-fill rate: Identified the right candidate within 10 days vs 3 months of sourcing
Quality sourcing and matching: Leveraged our Proven Process to identify the top .3% of candidates matched on experience and cultural fit
Time saved: Saved the client ~37 hours of work which improved productivity and operational efficiencies
"Stivers was quick to respond to our request and made a huge impact. Shannon our new HR Specialist is doing great. I don't know how I managed without her. She's fitting in and already making an impact. I was recruiting for that position since September, thank you for finding her."

– Human Resources Manager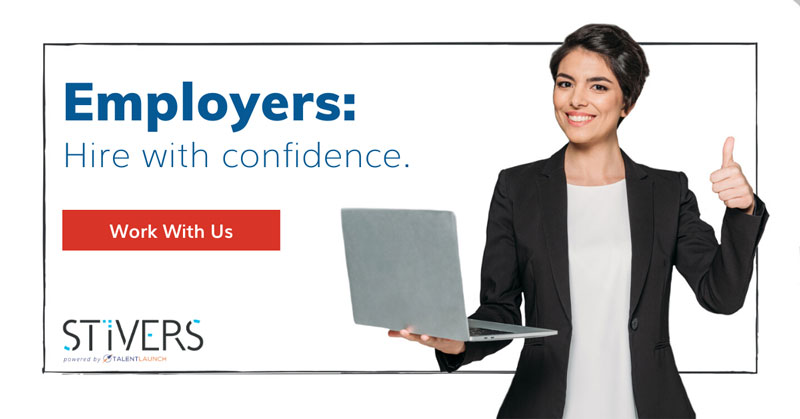 Contact your local office now or visit us at stivers.com to learn more.