The Problem:
A client in the higher education industry was experiencing departmental growth and needed to add a team member. In the university system, headcount must be included in annual budgets, and this position was not identified in time. The client decided to use a staffing and recruiting firm to bridge the gap until the next annual budget process.
The client initially partnered with a firm other than Stivers, but was unhappy with the service, which resulted in:
6 weeks struggling to find quality candidates, either missing on experience or cultural fit
~$6,000 invested by starting 2 "best available" candidates and subsequently, firing them for performance issues
The Solution:
They decided to partner with Stivers because of:
Commitment to service excellence
Network of experienced office professionals
Our Proven Process
Access to cutting-edge technology that can quickly identify, engage, and screen the existing database of top-tier candidates
To ensure Stivers delivered the highest quality service,
our team met with the client stakeholders to assess and analyze the scope of the role and the ideal candidate profile. Leveraging our cutting-edge technology allowed us to quickly identify the best candidate.
The Impact:
Stivers quickly responded and identify the right hire within 24 hours. This candidate worked on a contract basis for the remainder of the fiscal year and was then hired permanently by the client.
The hire saved the client ~$780 in advertising costs needed to identify a permanent employee
The client saved ~37 hours of work by leveraging cutting-edge recruiting technology
Our Proven Process identified the right fit based on skills and experience
"The other company we were working with sent us numerous candidates who didn't interview well, or started on the assignment and didn't perform well. Communication was abrupt, and not as responsive as what we were looking for. The first person Stivers sent to us was who we hired and she has become a wonderful contribution to our team. Stivers is responsive and accommodating. We will definitely partner with Stivers for future needs, and will refer them to anyone inquiring about the type of services they offer."

-Admissions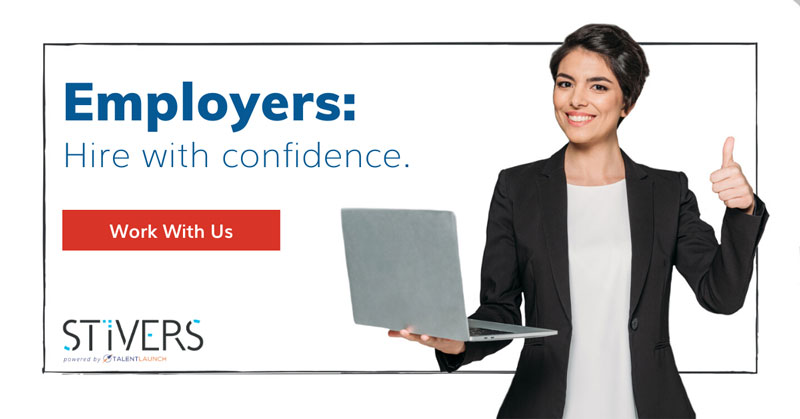 For more information about partnering with us for your workforce needs, visit: stivers.com