A Partnership with Stivers resulted in hiring and onboarding hundreds of retail merchandisers and sanitizers within days.
Summary:
Due to COVID-19, the demand for essential products and store sanitizing grew exponentially. A nationwide retail merchandising organization partnered with Stivers to find qualified candidates immediately.
Using artificial intelligence sourcing tools and video interviewing software, Stivers mobilized recruitment efforts quickly to meet the growing demand.
Our commitment to using advanced technologies and Proven Processes allowed our recruitment teams to source, screen, and onboard merchandising and sanitizing professionals quickly — saving our customer valuable time and resources.
The Impact:
19 positions were filled within 3 days in Utah and Nevada. Night shift merchandisers for several locations were required in both states. Our team mobilized quickly and swiftly filled all positions while dealing with ongoing schedule changes.
39 positions filled on the East Coast within 5 days. Our team sourced, screened, and onboarded merchandisers within a multi-state region.
81 sanitizing professionals filled within 3 days in Northern and Southern California. During the height of COVID-19, our team provided store sanitizers for an 8-week assignment.
35 positions filled within 5 days across Colorado. Our team sourced, screened, and onboarded merchandisers across the state.
Over 100 positions were filled in Chicago within 2 weeks. Day shift merchandisers were hired to fill ongoing needs in one of the city's largest grocery store chains.
20 positions filled in Dallas in 3 weeks. Rolling starts, over 3 weeks, for merchandisers doing store resets on the night shift.
I'm amazed at how fast they were able to staff my teams with quality people. They have been a pleasure to work with! My company has built a true partnership with Stivers!

– Jayne, Director of Operations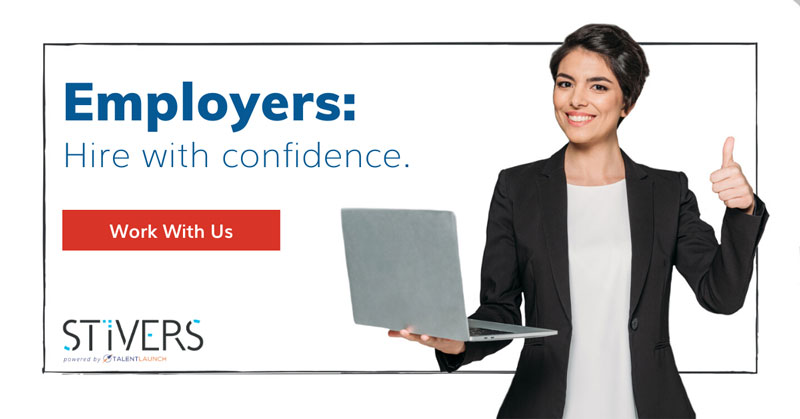 Contact your local office now or visit us at stivers.com to learn more.